Details

Written by Léopold Lambert

Léopold Lambert

Published: 12 September 2016

12 September 2016

Hits: 8947

8947
From Standing Rock to Palestine, the Caterpillar Bulldozers at Work for the Colonial Project
(for links and other information, see original article)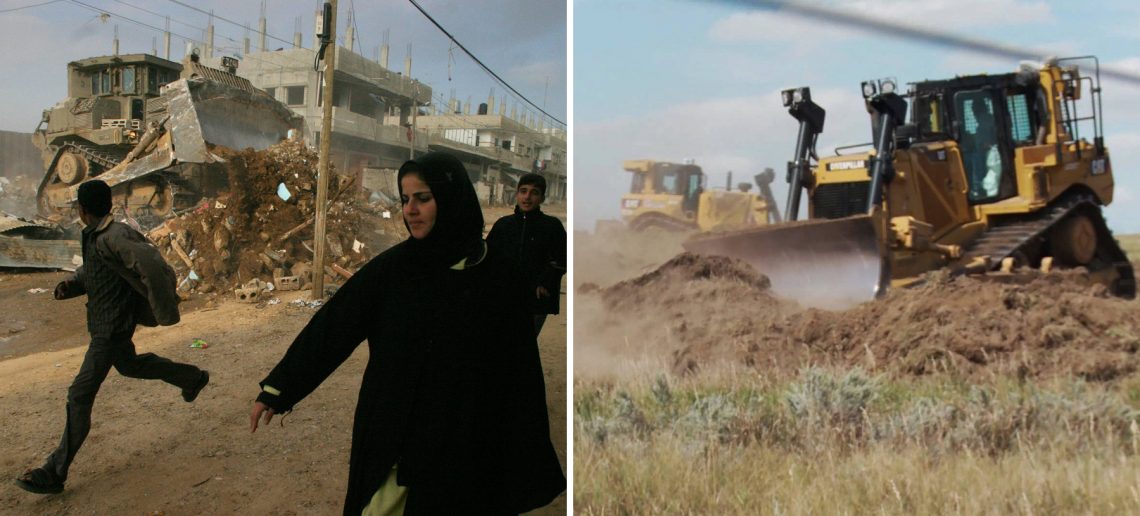 Two Caterpillar bulldozers at work (left: Rafah, Palestine in 2002,      right: Standing Rock, ND on Native sacred burial ground in 2016)
Since April 1, 2016, the Standing Rock Sioux Tribe, later followed by over 200 other Native nations, has been occupying the sacred site of Standing Rock in order to protect it against the construction of the Dakota Access pipeline (named after the two American States, not the Native nation of course), which would carry Bakken crude from North Dakota to Illinois. Yesterday (September 8),  North Dakota Governor Jack Dalrymple has called for the U.S. National Guard to intervene at Standing Rock a few hours before the ruling of a lawsuit that the Standing Rock Sioux Tribe has brought against the U.S. government. A few days earlier, some Native organizers had been attacked by dogs ordered by private security force, and bulldozers had demolished a sacred burial ground (see the Democracy Now report here).
Read more: From Standing Rock to Palestine, the Caterpillar Bulldozers at Work for the Colonial Project
Details

Written by UN Coordinator for Humanitarian Aid and Development Activities

UN Coordinator for Humanitarian Aid and Development Activities

Published: 31 August 2016

31 August 2016

Hits: 7413

7413

Gaza, 31 August 2016

Following a visit today to the occupied Gaza Strip with diplomats from Australia, Belgium, Canada, the EU, and the UK, the UN Coordinator for Humanitarian Aid and Development Activities, Robert Piper, called for increased diplomatic and donor action to reduce reliance on aid, increase respect for international law and accelerate recovery and reconstruction.

"This week two years ago, Palestinians in Gaza were breathing a sigh of relief following 51 days of hostilities that left over 1,450 civilian deaths, more than 11,000 injuries and two million tons of rubble in its wake," recalled Mr. Piper, "Today, many of the physical damages have been repaired, once again, but the horizon remains bleak as Gaza's isolation enters its tenth consecutive year".

In Beit Hanoun, the delegation heard from some of the 65,000 Palestinians who remain displaced, two years later, as well as from the victims and families on their expectations for accountability for violations of international humanitarian law that occurred during the hostilities.

Read more: PRESS RELEASE: UN Coordinator calls for international support for Gaza
Details

Written by Yotam Berger

Yotam Berger

Published: 31 August 2016

31 August 2016

Hits: 7172

7172
Israel approved on Wednesday the construction of hundreds of new housing units in West bank settlements and retroactively legalized dozens more.

The plan has already been approved at the political level.

The Civil Administration's High Planning Committee approved the building of 234 homes in Elkana, which are designated by the plan as a nursing home, 31 homes in Beit Arye, and 20 homes in Givat Ze'ev. The committee has also legalized 178 housing units which were built in Beit Arye the 1980s.

The housing units planned for Elkana still require objections to be heard before a final approval is granted.

The construction of 30 housing units originally planned for the settlement of Efrat, however, were not approved by the panel.

The Civil Administration is the Israeli agency that oversees services for residents of the occupied West Bank.

Earlier this month, a Jerusalem district panel approved the construction of 56 homes in the Jerusalem neighborhood of Ramot, located across the Green Line.

The additional housing will not expand the boundaries of the neighborhood, but will increase building density within Ramot.

Last week, Haaretz reported that Israel plans to expand the Jewish settlement in the West Bank city of Hebron for the first time in over a decade. The U.S. State Department expressed "deep concern" about the intention to advance construction for settlers there.

"We strongly oppose all settlement activity, which is corrosive to the cause of peace. And we've said repeatedly such moves are not consistent with Israel's stated desire to achieve a two-state solution," a State Department spokesman said.
Details

Written by Peter Beaumont | theguardian.com

Peter Beaumont | theguardian.com

Published: 31 August 2016

31 August 2016

Hits: 7255

7255
Israel's most senior police officer has provoked outrage by suggesting it is "natural" for officers to suspect Israelis of Ethiopian origin – as well as Arabs – of being more involved in crime than other Jews.

Roni Alsheich, Israel's police commissioner, made the comments in response to a question at a conference of the Israeli bar association, suggesting more widely that research worldwide showed that "young people and immigrants" were disproportionately involved in crime.

His remarks come against a growing background of complaints by Ethiopian Jews over policing of their community – including accusations of crude profiling – which has led to recent street protests.


Read more: Israel police chief says it is natural to suspect Ethiopians of crime
Details

Written by Leilani Farha

Leilani Farha

Published: 29 August 2016

29 August 2016

Hits: 8551

8551

https://www.theguardian.com/commentisfree/2016/aug/29/palestine-evictions-human-rights-susiya-bedouin-un-security-council


Abu Jihad, a Susiya village elder, waits anxiously. His home in the south Hebron hills of the occupied West Bank faces demolition for the third time. Legal options are running out as Israeli authorities proceed with their plans to forcibly evict half the village. Global opinion and pressure have helped keep the bulldozers at bay this time around. So far.

The Palestinian herder community of Susiya was forced out of its century-old village in 1986. Israel declared the area an archaeological site and then handed it over to Israeli settlers. The villagers moved into tents and caves on their own farmland, but were evicted from there as well by the Israeli army in 1991. No reasons were given. They now live on another part of their farmland, sandwiched between a hostile Israeli settlement and one of its outposts.

For several decades now, the villagers of Susiya have lived under the constant threat of becoming homeless once again. Mass demolition of their homes and forced evictions took place in 2001 and 2011. Israel claims it has no planning permits to build on the farmland, but at the same time makes it impossible for Palestinians to obtain permits. Residents of Susiya have applied for permits over the years but each application is met with rejection.

Every week somewhere in the West Bank a family watches while their home is demolished by bulldozers

Susiya's plight is not an exception. In addition, more than 46 Bedouin communities in the central West Bank – around 7,000 Palestinians – face Israeli pressure to leave their homes. These are among the most vulnerable people in Palestine. Most of them are Palestinian refugees, forced out of southern Israel following the 1948 Arab-Israeli war.

Read more: Palestine's latest evictions are a human rights crisis: world leaders must act