Details

Written by Peter Miller

Peter Miller

Published: 18 October 2017

18 October 2017
See Khalil Bendib's website at: http://www.bendib.com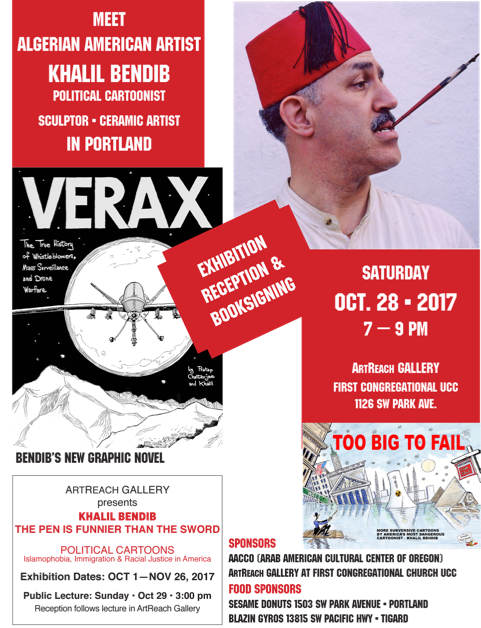 Details

Written by Yotam Berger

Yotam Berger

Published: 29 August 2017

29 August 2017
'We will deepen our roots, build, strengthen and settle,' Netanyahu tells settlers at event marking 50 years to Israel's occupation of the West Bank
Prime Minister Benjamin Netanyahu declared Monday that he will not evacuate Israeli settlements in the West Bank
"We are here to stay, forever," the prime minister said at an event in the settlement of Barkan, commemorating the 50th anniversary of Israel's occupation of the West Bank.
"There will be no more uprooting of settlements in the land of Israel. It has been proven that it does not help peace," he said. "We've uprooted settlements. What did we get? We received missiles. It will not happen anymore.
Details

Written by Gilbert Schramm

Gilbert Schramm

Published: 26 August 2017

26 August 2017
In the wake of Charlottesville, Americans have been forced to confront racism. Sadly, the debate has quickly shifted focus from the killing of a young peace activist—Heather Heyer, to the rather symbolic issue of the many confederate statues around the nation. The white supremacist demonstration that led to her death was focused on the planned removal of one of these monuments to, and symbols of, America's racist past.
Symbols are powerful things. I applaud the effort to remove these symbols of racism. It is a real tragedy, however, that this focus has taken precedence over opposition to the real thing—the real institutionalized structures that maintain racism in this country—and elsewhere.  It seems to me that our law enforcement agencies are not focused on rolling up the racist criminal elements that committed the terrorist act that left Heather dead.
Make no mistake about this: the white supremacist organizers of the original rally in Charlottesville are preaching a kind of "Jihad" just as much as Islamist terrorist groups like ISIS are. Their stated objective is to start a race war to "cleanse" America of "foreign" elements. Previous terrorist acts like those in Orlando and San Bernardino were "lone wolf" attacks. There was no crowd of supporters preaching an Islamist jihad anywhere nearby. But if there had been, there would surely have been an effort to roll them up, arrest them, and try them as accomplices. Instead of taking similar actions against white supremacists in Charlottesville, there has been an immediate deflection to the issue of statues. Trump's pardon of the racist Sherriff Joe Arpaio emphasizes the depth of the problem. All this is deeply disturbing. 
President Trump's actions have rightly shaken the nation. In one of the many incredibly racist tweets that composed his overall reaction, he noted the 'importance of learning from history.' Ironically, he then tweeted a false narrative about General Pershing's behavior during the Moro War in the Philippines at the turn of the last century. This story has been thoroughly debunked (as is so often the case with Trump's ideas about history).
In Trump's lurid fiction, bullets were dipped in pig's blood and then used to execute 49 out of 50 Muslim Moro people engaged in resisting US occupation. The lone survivor was allegedly sent home to take the message of the massacre back to his people. The result, according to Trump, was 25 (or in a later retelling 35) years of "peace."
The story has been thoroughly debunked—though it must be noted that the behavior of the US troops in the Moro War was appalling in the extreme. But it is highly indicative of the present problem. It is relevant because it reveals Trump's mindset—a mindset where horrific brutality leads to a cessation of resistance.
Read more: Of Pig's Blood and Presidents: Charlottesville, Zionism and Real Resistance to Racism
Details

Written by Sheren Khalel

Sheren Khalel

Published: 24 August 2017

24 August 2017
BETHLEHEM, West Bank — Israeli military jeeps came barreling down towards Jubbet al-Dhib's first and only primary school late Tuesday night, terrifying locals who had been finishing preparations for the school's grand opening set for the next morning. Soldiers shot tear gas and rubber-coated steel bullets as they cleared the way for bulldozers and flatbed trucks brought in to take the school. 
The school, located between four Palestinian villages on the outskirts of Bethlehem, was built with caravans on a concrete foundation by local authorities and international NGOs partnered with the European Union, hoping to mitigate the myriad of challenges facing students in the area. 
Israeli soldiers quickly cleared the area with crowd control weapons, and within an hour of the soldier's arrival the caravans had been loaded up and taken away along with the tables, desks, construction equipment and everything else other than the concrete foundation, bathrooms and tiny chairs brought for the seven-to-nine-year-olds that were expected to attend their first day of  school the next morning.
Details

Written by Naomi Dann

Naomi Dann

Published: 24 August 2017

24 August 2017
The images of Nazis and white supremacists marching in the streets of Charlottesville with torches chanting "blood and soil" shook me to my core. But so did something else that happened this week. In the aftermath of these acts of blatant racism and anti-Semitism, one of the march's leaders, Richard Spencer, was invited onto Israeli TV. His words were chilling, but not for the reason I expected.
The Israeli TV host asked Spencer how he, a Jew, should feel about Spencer's platform. What Spencer said was shocking:
"As an Israeli citizen, someone who understands your identity, who has a sense of nationhood and peoplehood and history and experience of the Jewish people, you should respect someone like me," Spencer said. "I care about my people. I want us to have a secure homeland for us and ourselves, just like you want a secure homeland in Israel." He told the Israeli host that he sees himself as "a white Zionist."
Fair Use Notice
This site contains copyrighted material the use of which has not always been specifically authorized by the copyright owner. We are making such material available in our efforts to advance understanding of environmental, political, human rights, economic, democracy, scientific, and social justice issues, etc. We believe this constitutes a 'fair use' of any such copyrighted material as provided for in section 107 of the US Copyright Law. In accordance with Title 17 U.S.C. Section 107, the material on this site is distributed without profit to those who have expressed a prior interest in receiving the included information for research and educational purposes. For more information go to: http://www.law.cornell.edu/uscode/17/107.shtml . If you wish to use copyrighted material from this site for purposes of your own that go beyond 'fair use', you must obtain permission from the copyright owner.