Details

Written by Harry Davies, Bethan McKernan and Dan Sabbagh in Jerusalem and 972's Yuval Abraham

Harry Davies, Bethan McKernan and Dan Sabbagh in Jerusalem and 972's Yuval Abraham

Published: 01 December 2023

01 December 2023
The latest Israel-Hamas war has provided an unprecedented opportunity for the IDF to use such tools in a much wider theatre of operations and, in particular, to deploy an AI target-creation platform called "the Gospel", which has significantly accelerated a lethal production line of targets that officials have compared to a "factory".
The Guardian can reveal new details about the Gospel and its central role in Israel's war in Gaza, using interviews with intelligence sources and little-noticed statements made by the IDF and retired officials.
This article also draws on testimonies published by the Israeli-Palestinian publication +972 Magazine and the Hebrew-language outlet Local Call, which have interviewed several current and former sources in Israel's intelligence community who have knowledge of the Gospel platform.
Their comments offer a glimpse inside a secretive, AI-facilitated military intelligence unit that is playing a significant role in Israel's response to the Hamas massacre in southern Israel on 7 October.
The slowly emerging picture of how Israel's military is harnessing AI comes against a backdrop of growing concerns about the risks posed to civilians as advanced militaries around the world expand the use of complex and opaque automated systems on the battlefield.
"Other states are going to be watching and learning," said a former White House security official familiar with the US military's use of autonomous systems.
The Israel-Hamas war, they said, would be an "important moment if the IDF is using AI in a significant way to make targeting choices with life-and-death consequences".
Read more at the Guardian:
https://www.theguardian.com/world/2023/dec/01/the-gospel-how-israel-uses-ai-to-select-bombing-targets
The breaking story came from +972 Magazine:
'A mass assassination factory': Inside Israel's calculated bombing of Gaza
The Israeli army's expanded authorization for bombing non-military targets, the loosening of constraints regarding expected civilian casualties, and the use of an artificial intelligence system to generate more potential targets than ever before, appear to have contributed to the destructive nature of the initial stages of Israel's current war on the Gaza Strip, an investigation by +972 Magazine and Local Call reveals. These factors, as described by current and former Israeli intelligence members, have likely played a role in producing what has been one of the deadliest military campaigns against Palestinians since the Nakba of 1948.
https://www.972mag.com/mass-assassination-factory-israel-calculated-bombing-gaza/
Details

Written by Amal Elhelw | KPTV12

Amal Elhelw | KPTV12

Published: 24 November 2023

24 November 2023
PORTLAND, Ore. (KPTV) - It's been over a month since violence sparked back up in Israel and Palestine with the Health Ministry in Gaza reporting they lost the ability to count Palestinian deaths. The last official report earlier this month exceeded 11,000 people, half of whom are children. It's all a part of Israel's military response to Hamas' October 7th attack, where more than a thousand Israelis were killed and hundreds more taken hostage.
For weeks since the initial attack, world leaders have been calling for a ceasefire in Gaza, a small piece of land home to 2.2 million people, that is about the size of Portland. On Tuesday, Israel agreed to a brief halt in the fighting to allow for the release of 50 Israeli hostages, as well as the release of 150 Palestinians being held in Israel. Some Oregon leaders were part of the call for a ceasefire, including Sen. Jeff Merkley. The senator said in a statement his decision to do so came after speaking with Oregonians who have ties to the region, including Nael Saker and Joel Beinin.
Read Amal Elhelw's report on KPTV12
Details

Written by Bernie Sanders

Bernie Sanders

Published: 22 November 2023

22 November 2023
Read the full opinion piece by Bernie Sanders on the NY Times
Finally, if Palestinians are to have any hope for a decent future, there must be a commitment to broad peace talks to advance a two-state solution in the wake of this war. The United States, the international community and Israel's neighbors must move aggressively toward that goal. This would include dramatically increased international support for the Palestinian people, including from wealthy Gulf States. It would also mean the promise of full recognition of Palestine pending the formation of a new democratically elected government committed to peace with Israel.
Let's be clear: this is not going to happen on its own. Mr. Netanyahu's Likud party was explicitly formed on the premise that "between the Sea and the Jordan [River] there will only be Israeli sovereignty," and the current coalition agreement reinforces that goal. This is not just ideology. The Israeli government has systematically pursued this goal. The last year saw record Israeli settlement growth in the West Bank, where more than 700,000 Israelis now live in areas that the United Nations and the United States agree are occupied territories. They have used state violence to back up this de facto annexation. Since Oct. 7, the United Nations reports that at least 208 Palestinians, including 53 children, have been killed by Israeli security forces and settlers. This cannot be allowed to continue.
Mr. Netanyahu has made clear where he stands on these critical issues. So should we. If asking nicely worked, we wouldn't be in this position. The only way these necessary changes will happen is if the United States uses the substantial leverage we have with Israel. And we all know what that leverage is.
For many years, the United States has provided Israel substantial sums of money — with close to no strings attached. Currently, we provide $3.8 billion a year. President Biden has asked for $14.3 billion more on top of that sum and asked Congress to waive normal, already-limited oversight rules. The blank check approach must end. The United States must make clear that while we are friends of Israel, there are conditions to that friendship and that we cannot be complicit in actions that violate international law and our own sense of decency. That includes an end to indiscriminate bombing; a significant pause to bombing so that massive humanitarian assistance can come into the region; the right of displaced Gazans to return to their homes; no long-term Israeli occupation of Gaza; an end to settler violence in the West Bank and a freeze on settlement expansion; and a commitment to broad peace talks for a two-state solution in the wake of the war.
Details

Written by Senator Jeff Merkley

Senator Jeff Merkley

Published: 21 November 2023

21 November 2023
https://www.merkley.senate.gov/merkley-statement-on-ceasefire/
WASHINGTON, D.C. – Oregon's U.S. Senator Jeff Merkley today released the following statement regarding the Israel-Hamas war.
In his statement, the Senator calls for a ceasefire, to include the immediate cessation of hostilities by both sides. He also notes that a ceasefire will not endure unless the ceasefire and the negotiations that follow accomplish a number of objectives, including the release of all hostages and a massive influx of humanitarian aid.
Details

Written by Gilbert Schramm

Gilbert Schramm

Published: 20 November 2023

20 November 2023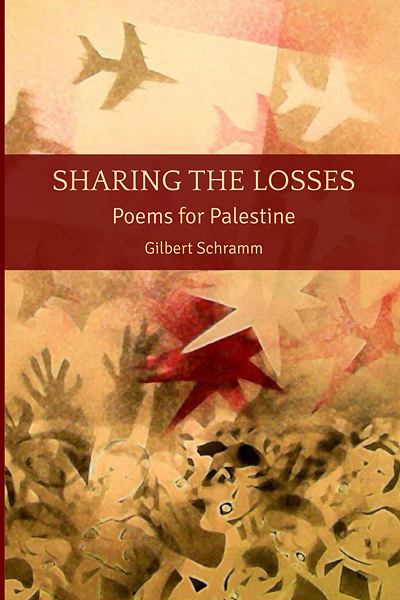 From Gilbert Schramm, he has written some excellent poetry over many years, include many concerning the Middle East…
He is offering these for sale, all proceeds go towards humanitarian relief in Palestine. A sample is below.
My book is published! It is a benefit for promoting peace in the Middle East in two ways: any profits will go toward humanitarian relief in Palestine, and it is also a way of promoting awareness of this issue. Please share with friends and networks. It is always difficult promoting a self-published book. If, after reading it, you feel it is informative and useful, it would really help to make a brief review= on Amazon. It would be preferable to comment on the work itself- it's not a place for airing general feelings about the conflict. If anyone has connections to groups involved in similar work, please try to make them aware of it.
Jerusalem in the afternoon is the bitterness of two hundred winter-bare olive trees fallen in the distance.--Deema Shehabi
Jerusalem/ Gaza
(2012-2014)
If there were no separation between
Events in space because of time
How would we order our world?
We would have to live with our history then
And live with our acts always
Ancient walls would be
Obscured by the images of the hands
That lifted the stones, again and again
And we would see those hands
Like a cloud of birds, rising, fluttering.
And we would also see the hands
That cast those stones down
And the shape of each stone falling.
Perhaps seeing that appalling waste
would teach us something.
Some places in the world
Would be thick always
With the images of the slain
Heaped in the roads and gutters like leaves
Fall, the gurgling of clotting drains.
And from on high the view would seem
Like something from a crazy Escher dream
Outlines of the bodies, chalked in as at the scene
Of a crime of such brutal magnitude
No absolution could ever intrude.
-- Gilbert Schramm
Subcategories
The latest news from the Joomla! Team