Details

Written by Peter Miller

Peter Miller

Published: 07 January 2019

07 January 2019
http://org.salsalabs.com/o/641/p/dia/action4/common/public/…
Call your Senators today and urge them to vote no on S. 1, a violation of our freedom of speech rights! It is outrageous that the first Senate bill of the year is to deny American's their freedom of speech in order to protect the outrageous behavior of a foreign government:
URGENT: Anti-BDS vote in Senate, Tuesday, Jan. 8
Last Thursday, the Senate's first bill of the new Congress – S.1 – was introduced by Sen. Marco Rubio (R-FL), and it encourages states to punish people for boycotting for Palestinian rights.
To make matters worse, the Senate is scheduled to vote on the bill tomorrow, Tuesday, January 8.
Sen. Rubio's new bill incorporates language from the Combating BDS Act, his unconstitutional bill which we defeated in the last Congress.
The Combating BDS Act calls upon states and cities to enact laws that curtail our constitutional freedoms, by denying government contracts to people who boycott for Palestinian rights. In response to lawsuits filed by the ACLU, these types of laws have already been declared unconstitutional by federal judges in Kansas and Arizona, and there are three additional lawsuits currently challenging similar laws in Texas and Arkansas.
Please pick up the phone right now and call your Senators to urge them to vote NO on S.1. Type in your street address and zip code to get contact information for your Senators. After you call, please be sure to fill out the form letting us know you called so we can keep track of the number of calls generated.
Here's a sample script, but please use your own words when calling:
Hi, my name is _____ from [City,State] and I am calling Sen. X to urge them to VOTE NO ON S.1 on Tuesday. This bill includes the Combating BDS Act, which was defeated in the previous two Congressional sessions because it is unconstitutional. It encourages states to pass laws that punish people who boycott for Palestinian rights by denying them government contracts. Federal judges in Kansas and Arizona have ruled these types of laws to be a violation of our First Amendment right to boycott. I am especially outraged that while parts of the government remain shutdown, the Senate would consider its most urgent act to be denying us our First Amendment rights. Please ask the Senator to vote no on S.1. Thank you.
Details

Written by Cornel West

Cornel West

Published: 04 December 2018

04 December 2018
No one gets closer to peace by silencing voices critical of a lethal status quo. We need a candid debate about the grim catastrophe unfolding in Israel

Why is it so difficult, if not impossible, to have a candid debate about the grim Israeli-Palestinian catastrophe that prevails in our midst? What stands in the way of our capacity to grasp the undeniable need for justice for Palestinians and the understandable fear of annihilation of the Jews in Israel? Is the only option a desperate Palestinian counter-violent struggle against the structural and military violence of the occupying Israeli state?
The recent firing of Marc Lamont Hill by CNN for calling for a free Palestine once again opens up this Pandora's box – with little, if any, hope left for a non-violent solution. Many supporters of the Boycott, Divestment and Sanctions (BDS) movement, such as Hill and myself, see this strategy as a last-ditch effort to avoid more bloodshed. This is especially important in the US context, as $3.1bn dollars of military aid currently goes to Israel to support such an unjust and inhumane occupation.

Yet we must persevere and persist in our quest for free Palestinians and secure Jews in Israel. We must put the rich humanity of Palestinians and Jews in Israel center stage by highlighting their equal calls for respect, fairness and accountability. First and foremost, this equality means a wholesale stoppage of the silencing of honest and compassionate voices critical of the lethal status quo.
Details

Written by Peter Miller

Peter Miller

Published: 07 September 2018

07 September 2018
A Palestinian Film Festival
5th Avenue Cinema, 510 SW Hall, Portland, OR 97201
October 5-7, 2018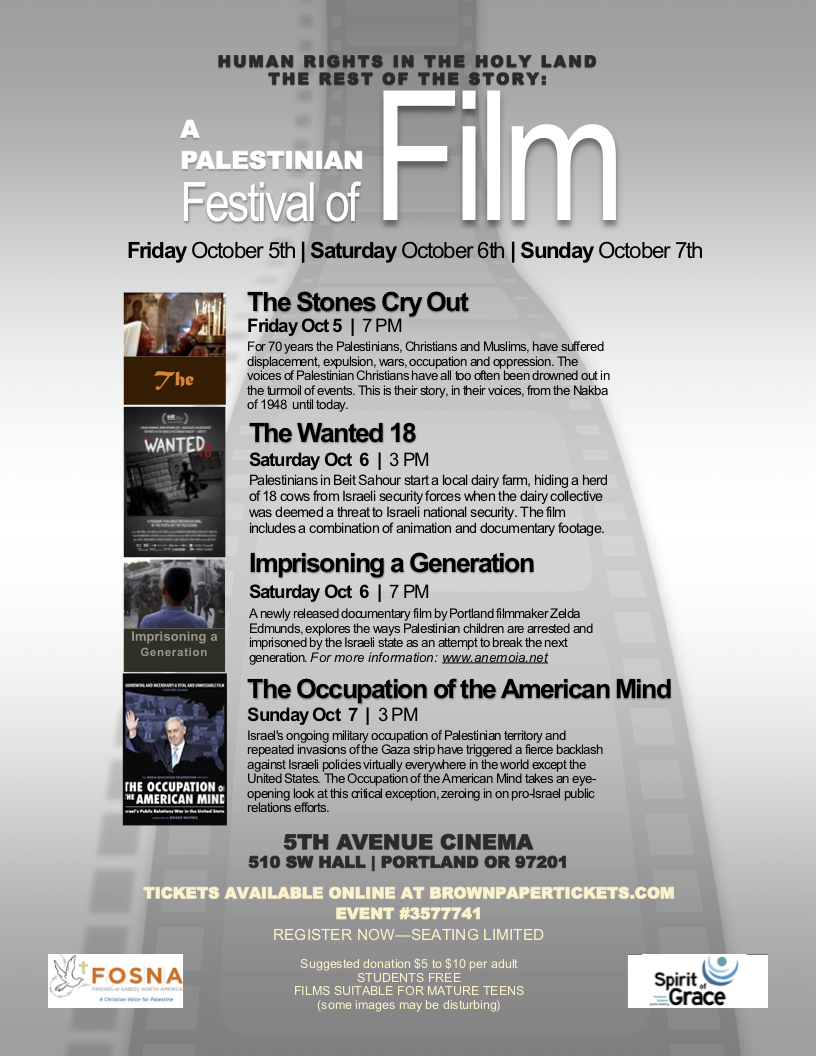 Feature Films & Show Times
Friday, October 5, 7 pm……….The Stones Cry Out 
Saturday, October 6, 3 pm ........The Wanted 18 
Saturday, October 6, 7 pm…….Imprisoning a Generation
Sunday, October 7, 3 pm …….The Occupation of the American Mind
Recommended donation $5-10 per show, STUDENTS FREE. 
Each feature film will be flanked by shorts.
Films suitable for mature teens.
An opportunity for Q&A will follow each show. 
REGISTER NOW—SEATING LIMITED
TICKETS AVAILABLE ONLINE AT https://www.brownpapertickets..com/event/3577741
Facebook event page: https://www.facebook.com/events/234176887252615/
Details

Written by Zaha Hassan

Zaha Hassan

Published: 03 August 2018

03 August 2018
"Continuing services to refugees is a right, not a handout."
This was the message last week of one of the thousands in Gaza who came out to protest the UN Relief and Works Agency's (UNRWA) decision to not renew 154 employment contracts in the occupied Palestinian territory. Despite UNRWA's best efforts, it has not been able to make up its current $250 million budget shortfallresulting from the U.S. decision to slash its contributions to the refugee agency.
Almost 12,500 Palestinians in Gaza are dependent on an UNRWA paycheck, which in many cases helps sustain more than just the nuclear family in the enclave where the unemployment rate is over 40%. It is unclear whether there will be enough funding for the 262,000 children in Gaza's UNRWA schools to return to their classrooms this academic year.
The existential threat facing UNRWA is deliberate, and so are the dire consequences for the 5.3 million registered refugees it serves. President Donald Trump and his Middle East Team headed by advisor, Jared Kushner, have latched onto the idea that humanitarian relief may be used as leverage to force the Palestinian leadership back to a negotiating table set by Israel. Leaked details of the Kushner-crafted peace plan indicate that it is nothing more than a souped up, donor-infused version of the status quo that Israel seeks to have legitimated with the signature of President Mahmoud Abbas. The Palestinian leader has infuriated the Administration by refusing to engage with it on these terms and so the Administration—along with the Republican-controlled Congress—has been tightening the financial noose around Palestinians.
[From the Journal of Palestine Studies | UNRWA and the Refugees: A Difficult but Lasting Marriage]
The idea of weaponizing humanitarian assistance provided to Palestinians is not new but it has never before found the currency it now has in the White House. Of late, right-wing think tanks, pro-"Greater Israel" Washington lobby groups and the "no daylight between Israel and the U.S." politicians have been peddling the fiction that humanitarian relief to Palestinian refugees has been growing by leaps and bonds. They argue that aid money that maintains the camp infrastructure and enables the provision of essential services and work opportunities perpetuates refugeehood.
Details

Written by Jewish Voice for Peace Health Advisory Council

Jewish Voice for Peace Health Advisory Council

Published: 26 April 2018

26 April 2018
The Jewish Voice for Peace Health Advisory Council (JVP HAC) issues this statement out of grave concern about the Israeli Military's use of excessive force, including live ammunition and tear gas against protesters in Gaza. For the past four Fridays, demonstrators within Gaza were met by the Israeli military firing live ammunition, rubber-coated bullets, and teargas across the border fence. The disproportional response of the Israeli military to a mostly unarmed civilian demonstration reflects a disregard for the basic human rights of Palestinians and for the safety and health of the people of the besieged Gaza Strip, where dire humanitarian conditions exist. This military response violates international law. Of further concern is the obstruction by the Israeli and the United States governments to the United Nations' issuing a statement condemning these actions. 
According to the New York Times, the Israeli military response to these protests has resulted in 37 deaths (4 people under the age of 18) and over 3000 wounded. 
Over 1000 of the wounded were hit by live ammunition, 300 by rubber-coated bullets, and 1000 by large doses of tear gas. Among those targeted were journalists (wearing identifying vests)—1 was killed and at least 6 have been wounded, and medics. Those with lethal wounds were shot in the chest, the back, and abdomen. Many also had been shot in the legs, pelvis, and hands.  There have been no Israeli injuries. 
Read more: Emergency statement: Gaza protests and Israel's military response
Subcategories
The latest news from the Joomla! Team
Fair Use Notice
This site contains copyrighted material the use of which has not always been specifically authorized by the copyright owner. We are making such material available in our efforts to advance understanding of environmental, political, human rights, economic, democracy, scientific, and social justice issues, etc. We believe this constitutes a 'fair use' of any such copyrighted material as provided for in section 107 of the US Copyright Law. In accordance with Title 17 U.S.C. Section 107, the material on this site is distributed without profit to those who have expressed a prior interest in receiving the included information for research and educational purposes. For more information go to: http://www.law.cornell.edu/uscode/17/107.shtml . If you wish to use copyrighted material from this site for purposes of your own that go beyond 'fair use', you must obtain permission from the copyright owner.